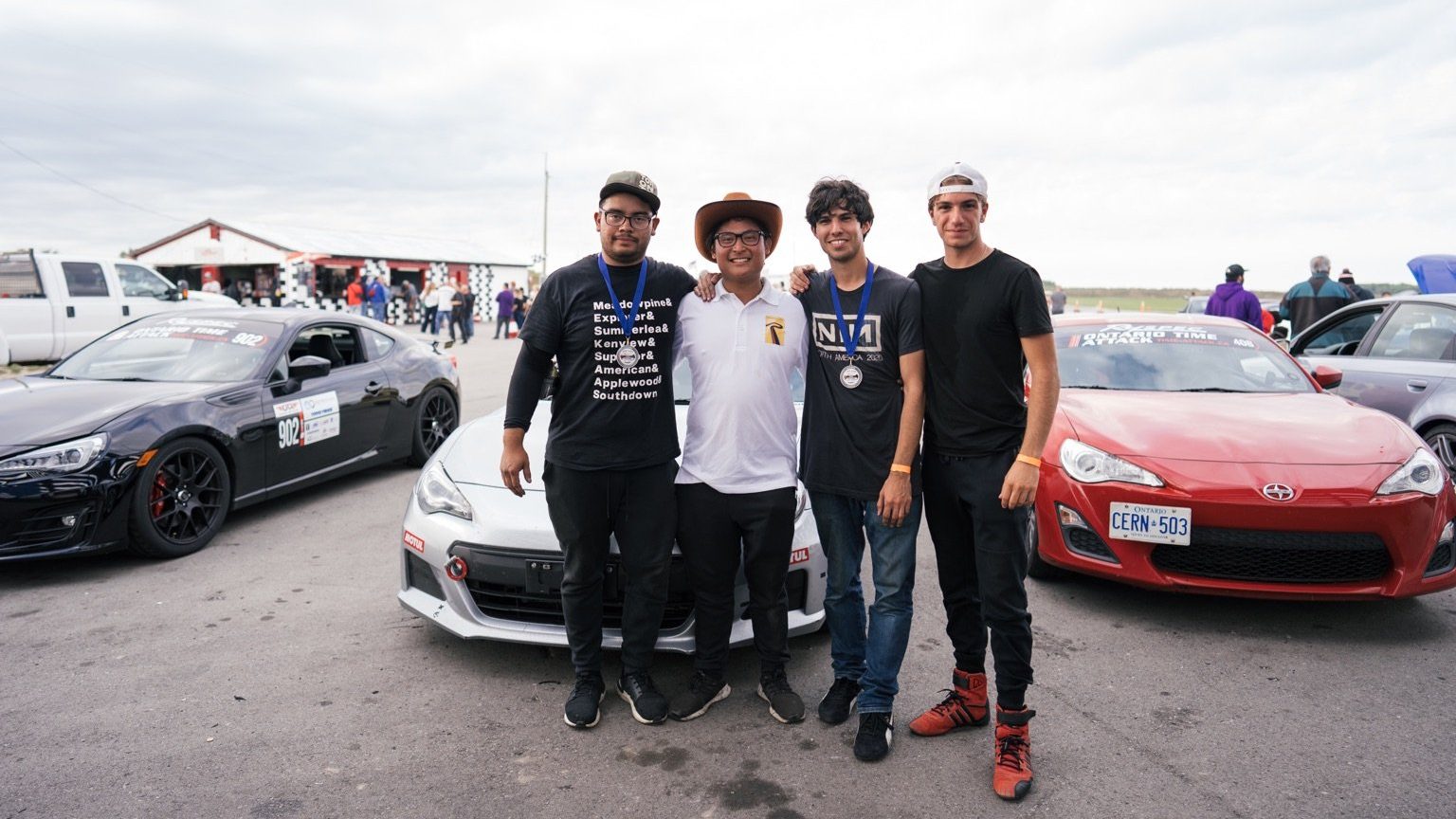 More often than not, time attack is referred to as "glorified lapping." After all, a time attack event is like a race where the winner is announced immediately following qualifying. Which is to say, it's hardly like racing whatsoever. There's no passing or pitting — just a bunch of twenty-somethings trying to set a lap around a racetrack. But positioning it as such does a disservice to how immensely difficult this sport is. Because in time attack, a single lap can make or break your weekend, your championship, your summer. It's a game of preparation, fitness, skill, and consistency. 
I made the mistake of thinking time attack was just glorified lapping when I showed up at my first Ontario Time Attack (OTA) event in the spring of 2019. The car was prepped with the basics – Hankook RS4s on stock wheels, aggressive brake pads and high temp brake fluid, a set of camber bolts, and an oil cooler. Honestly, I thought I was being clever: thinking that I could get away with using bare essentials in a competition setting. That was my first mistake. Time attack, at least, competitive time attack, means building to the very limit of a given class. Because, if you cheap out with a narrower wheel than what's allowed, a cheaper tire, or a less aggressive alignment — somebody else will show up in a more competitive car. And, if they're similarly skilled, they will beat you. Because let's face it, you're probably not Lewis Hamilton. You need every advantage you can get. And if you can't afford to build to the nines in a given class, it might be worth dropping down to a slower class where you can afford to build your car properly.
Predictably, I got my butt handed to me that day, and obviously that had more to do with me than it had to do with the car. That's not to say that I wasn't fast. What I was, was inconsistent. I highlight this because I've noticed a trend: people who post fast lap times on Instagram but are slow in a time attack setting. I'm not accusing these people of lying — I'm sure they did that fast lap. I'm accusing them of being inconsistent. Because while this isn't an endurance race where you're tasked with laying down 50 or 60 laps in a row, consistency is hugely important in time attack because you'll only get a handful of attempts to set that winning lap. I've seen loads of drivers show up, lay down a fast lap during their practice sessions, and flounder during competition. That day, I was one of them.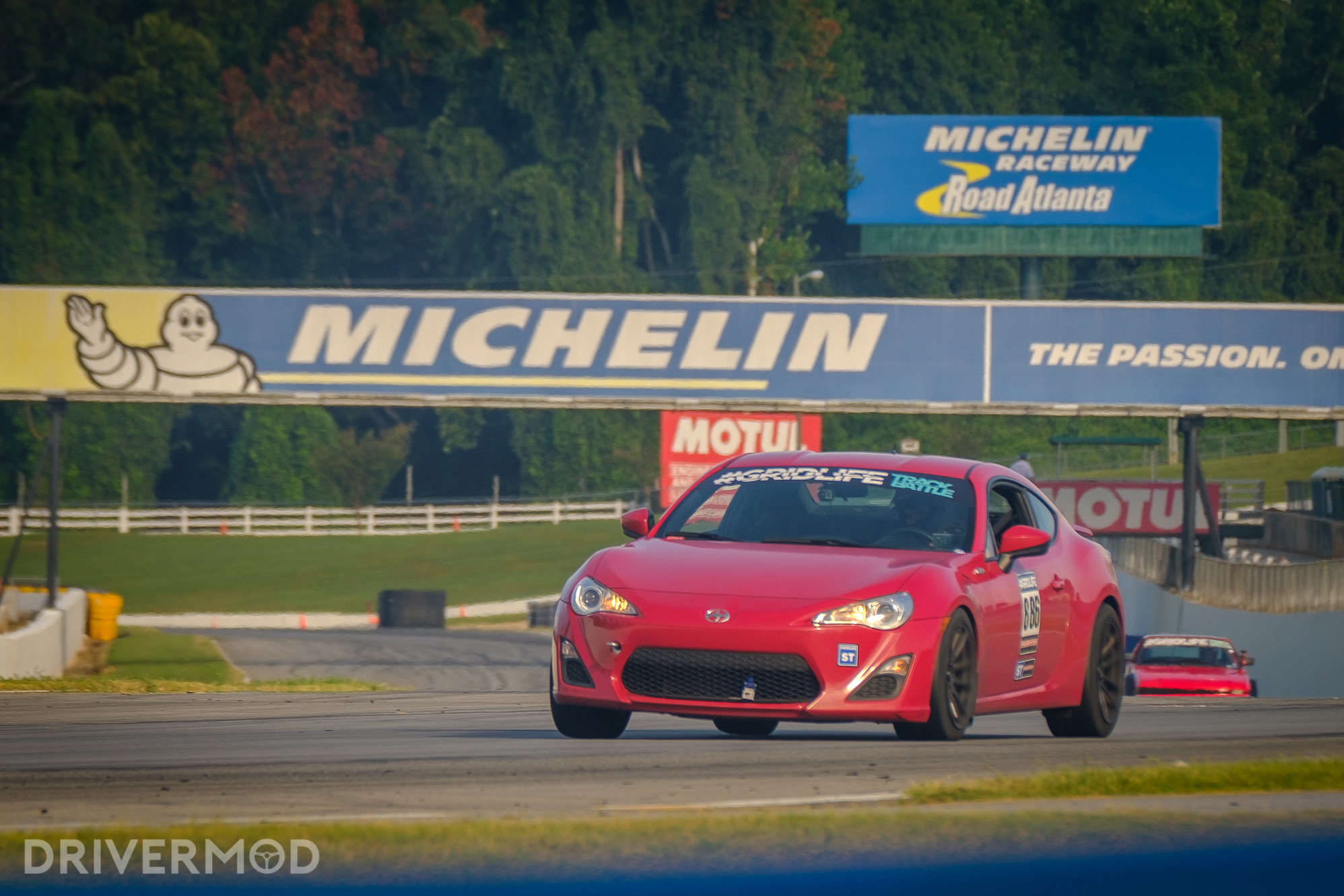 In any case, I brushed off my ego, drove home, and dedicated 2019 to practice. I did a bunch of lapping, some casual Gridlife Time Attack at Road Atlanta, and set my sights on the Ontario Time Attack championship in 2020. 
The Team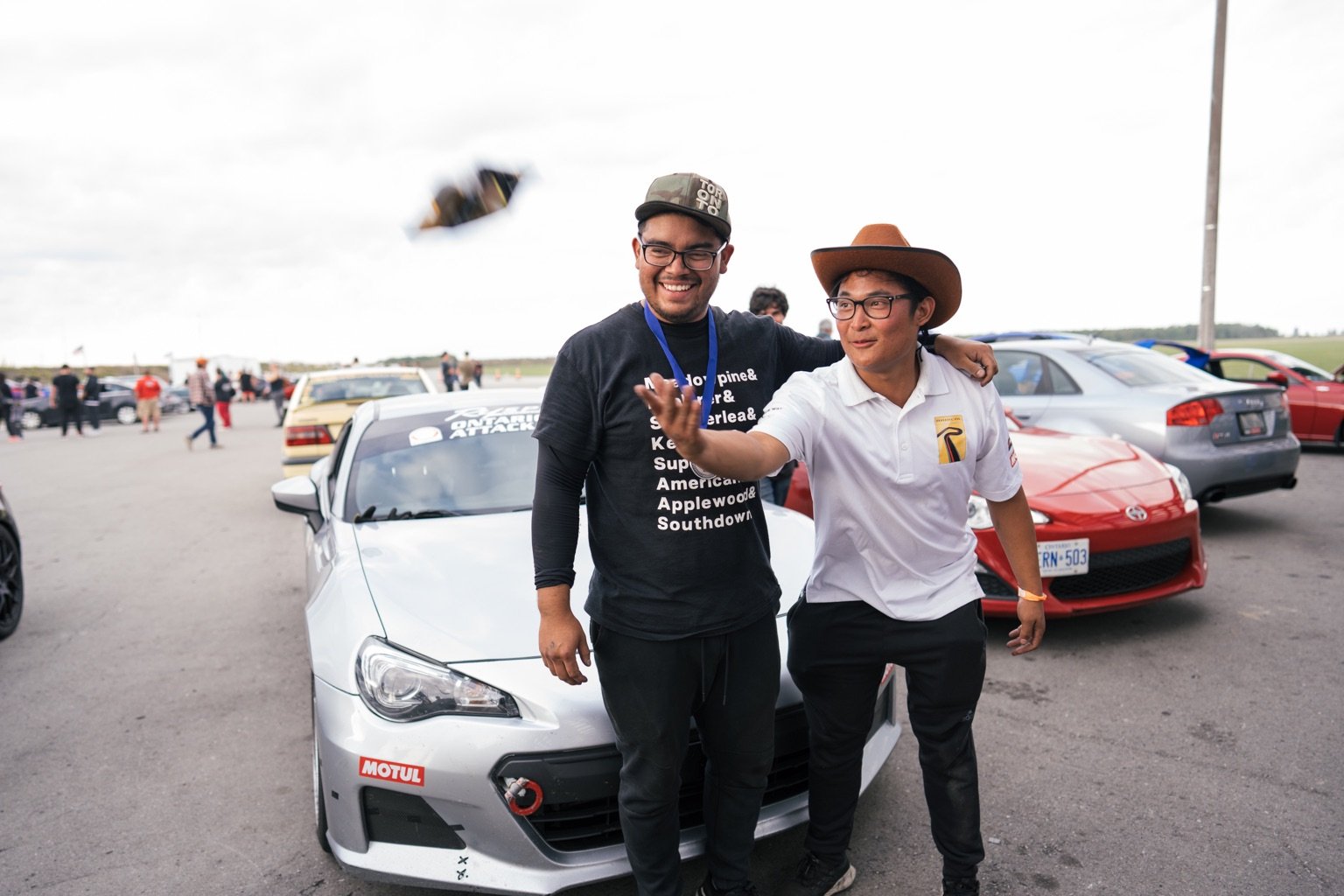 Left: Daniel Cocar, Right: Richard Yin
It's also around then that I met Daniel Cocar, owner of a silver Subaru BRZ, at a Shannonville Motorsport Park lapping day. He quickly identified me as the kid dumb enough to lap Road Atlanta in his daily, and I identified him as someone who knew the right way around Shannonville. Shortly after, he dusted me out on the track. It didn't take long for me to realize that he was uniquely fast, and coincidentally, we both intended on competing in Ontario Time Attack next year. We became good friends and spent most of the winter planning together — sharing leads on parts, ideas, tips for optimizing for the OTA rulebook, and sharing books on performance driving. It's Daniel, who introduced me to Richard Yin.
Richard is one of the most intense people I've ever met. He's young, ambitious, and he knows how to make a car corner. He also happens to work for a little sportscar company called Radical, the maker of Hayabusa-powered, fiberglass-bodied, purpose-built racecars. And despite spending 50+ hours a week maintaining and optimizing some of the most extreme racecars on the planet, he's chosen to start a side hustle known as RySpec. The goal of RySpec was (and still is) to take the same obsessive attention to detail that dedicated racecars receive – and apply it to production-based track cars. Track cars like mine.
The three of us ended up forming a little team, formally known as RySpec Racing. The premise was simple: Richard would help myself and Daniel prep our cars for the upcoming season, injecting them with some motorsport-inspired secret sauce. This meant installing all parts, aligning and corner balancing the cars, and more importantly, coming out to the track with us to check tire pressures, adjust shock settings, and generally help us make the cars faster. In return, Daniel and I would try and sweep the Ontario Time Attack podium. Our team of three became four when Nathan joined us.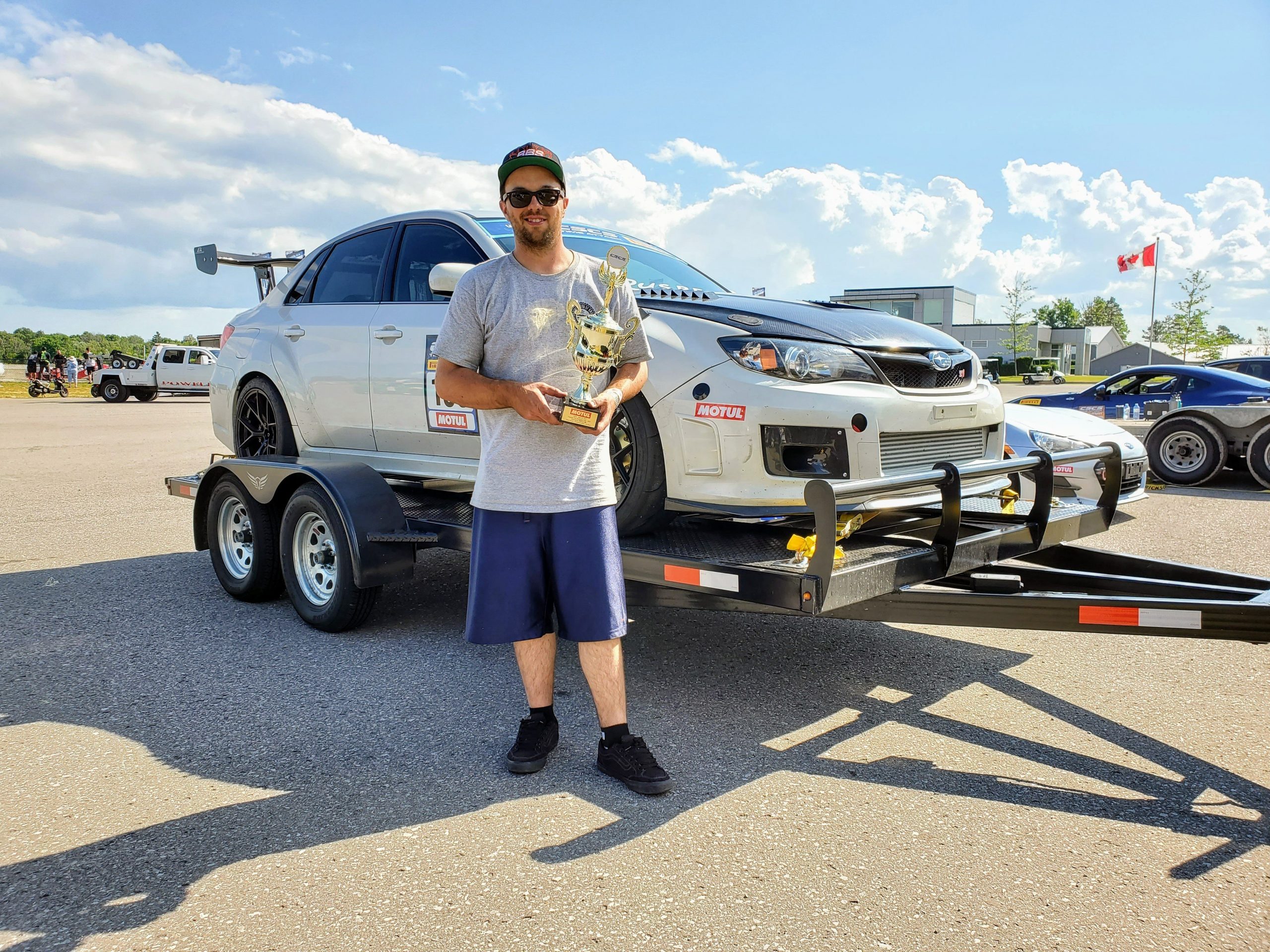 Nathan is a special combination rarely found in grassroots motorsports. He can lay down consistent, brilliantly fast laps in a time attack setting. Then go home, pull his motor, and service its rod bearings over the span of a weekend. He's by far the most advanced 'DIYer' among us. His Subaru WRX STi is a testament to this. There's little left of the factory EJ25 left under its hood. Featuring an IAG block, Manley pistons, ACL race bearings, a Garrett GTX3076R turbo — it was built to make over 400 whp reliably lap after lap. It's packaged together neatly using an AIM dash and data logger. All that jam is sent to the floor through Advan wheels wrapped in 265 A052s. Massive cornering grip is achieved using HKS coilovers and an aero package featuring an APR wing and custom splitter. He came to Richard because he was having an impossible time making his hefty Subaru WRX STi rotate.
At the time, there were two OTA classes most FRS/BRZs fit into; GT4 and GT3. Stock-suspension cars would compete in the GT4 class, while cars equipped with coilovers fit into GT3 (for a full breakdown of all current OTA classes, check out this article) The plan originally was for Daniel and I to duke it out against each other in OTA's GT3 class, while Nathan would fight Corvettes and Mustangs in the hyper-fast SGT3 class. A plan, which went out the window very quickly.
This is part one of a multi-part series. Click here to read part 2!