Cover Image: World Time Attack/ PZTuning
Chapters
How it Starts
It's 2014 and I'm in my parent's 8th gen Civic, cruising down country roads en route to the Toronto Motorsports Park. In the passenger seat is my brother Andrew – six years my elder. We look alike, but that's where the similarities pretty much end. He has a driver's license but hasn't driven in a decade. He's vegan, spends evenings playing video games with friends, gets around the city by transit – the type of person who could have happily gone a lifetime without stepping foot on a racetrack. But for some asinine reason, I felt compelled to show him what my new hobby was all about.
It was an awful day to go lapping. Light rain and drizzle made the track surface slick. For that reason, there was just one other car there with us: a bright orange Camaro SS. You probably know this type of driver: the kind who ventures out to the race track to "see what his car can do". They usually bring a bunch of friends and drive some monstrously powerful, but woefully unequipped when it comes to tires, brakes, and of course, drivermod. On any other lapping day, the Civic wouldn't have stood out, but with a decent tire, track-spec brake pad, Koni struts, and lowering springs, it passed the Camaro lap, after lap, after lap in the wet. 
I spoke with the driver after. More often than not these exchanges are awkward as hell, but he was friendly. After all, we were both there to have a laugh. Knowing the Civic wasn't stock made him feel a little better. We left shortly after. Andrew was bored and my ego was successfully stroked. And that's basically how I spent the next four years. Tinkering with cars, ripping laps. Trying to go fast.
 We all start off like my Camaro friend; fumbling around the track, fading brakes, and destroying street tires. Then some of us step up our game: learn the line, buy some decent tires and brake pads, and start figuring out how to string a decent lap together. For most of us – that's enough. After all, showing up and passing a slew of new drivers will make you feel like a driving god.
But if you're anything like me, this grows old. After all, guys and gals who show up to a lapping day aren't there to race – they're there to have a fun time. So counting passes on other cars on some metaphorical scorecard isn't much different than racing someone off a stoplight who's just trying to get to work. If you're really competitive and want to compete on an even playing field, that's where time attack comes in. 
When done right, a time attack event is the ultimate lapping day. Traffic is minimal because you're sent out with cars driving at a similar pace, lap-timing is dead accurate because every car is equipped with a transponder, and competition is fierce. But time attack events themselves vary significantly in terms of cars they cater to, the atmosphere they offer, and how they structure their competition and classing. Different flavors if you will. I've put this guide together to try and explain what series are available in southern Ontario, how they differ, and who they're designed for.
Ontario Time Attack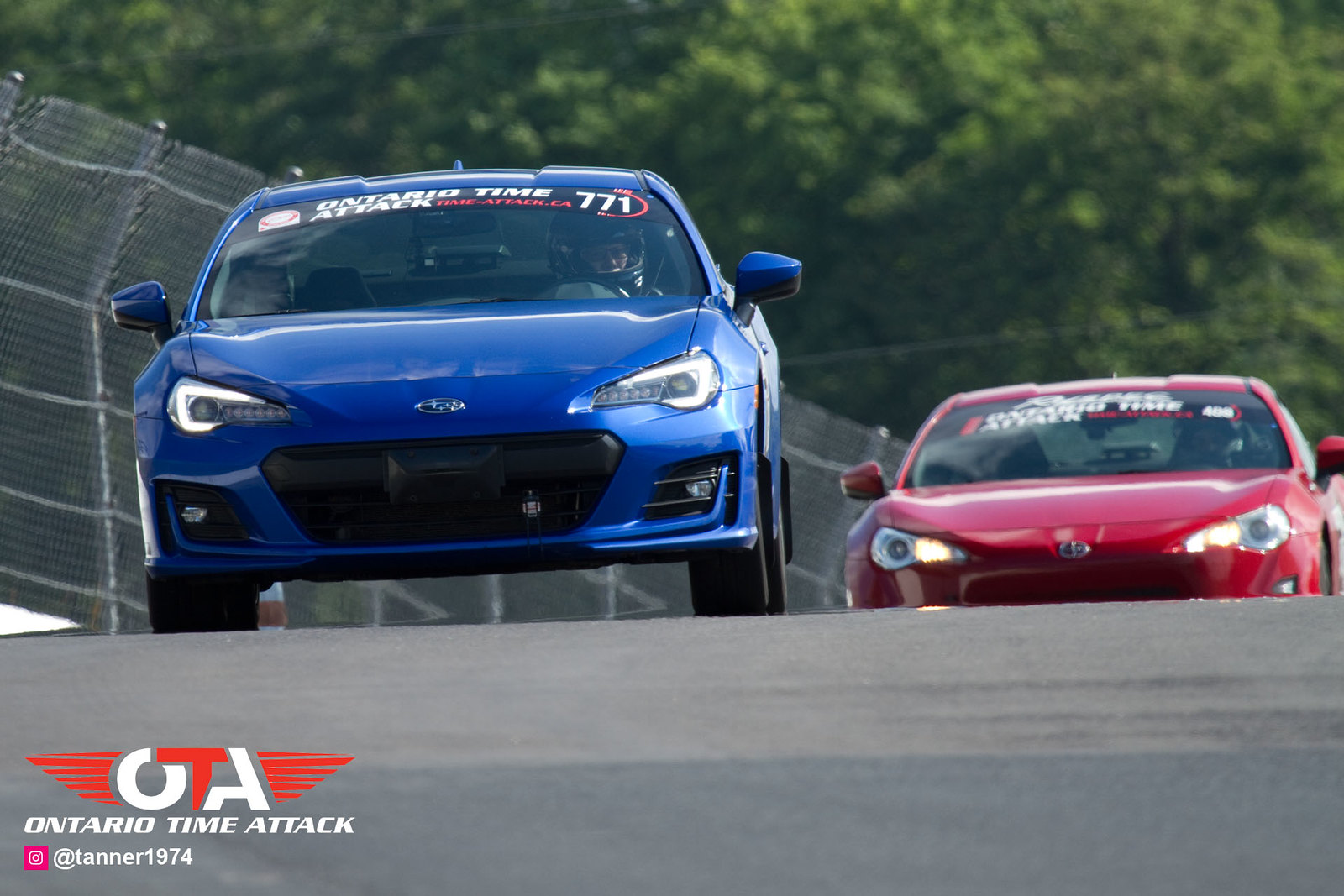 Image: Michael Tanner
Disclaimer: I just wrapped up a fantastic season with Ontario Time Attack. While I've tried my best to present it objectively, it certainly holds a special place in my heart.
OTA is Ontario's quintessential grass-roots time attack league. You won't find a paddock covered in vendor tents or massive swathes of cheering spectators. Instead, you'll be greeted by a tight-knit community of drivers who are obsessed with making cheap cars go fast. 
Ontario Time Attack is driver-focused, meaning that there's an emphasis on providing drivers with the most track time possible. The morning is broken into three, twenty-minute practice sessions, and the afternoon is broken into three competition sessions. Each competition lap consists of five laps – a warm-up lap, three hot laps, and a cool-down lap. Only competition laps count towards official standings. 
Classes
Classes are broken down into four sections: 
Touring
Lightly track-prepped economy cars – Pontiac Vibe, Toyota Echo
Grand Touring
Budget sports cars – FRS/BRZs, 370z, Civic Si
Super Grand Touring
Fast sports cars – Lotus Evora, Corvette, Mustang GT
Modified
Very fast, cagged, and gutted dedicated time attack cars
Open
Open-wheel race cars, or cars with a power-to-weight (lb/hp) ratio lower than 4.
Certain "sections" are broken out into two classes depending on how much competition exists in a given class.
How your class is calculated is complicated enough that it deserves its own article, but here's the gist of it:
Every car is assigned "PIPs" (performance index points) based on its power-to-weight ratio, and handling characteristics.

As you modify your car, each modification will add additional PIPs to your total

Your total PIPs, dictate what class you end up in
Here are OTA's 8 classes, along with their associated PIP range:
Open: 130+

Modified: 100-129.9

Super Grand Touring: A-Spec 90-99.9

Super Grand Touring: B-Spec 80-89.9

Grand Touring A-Spec: 70-79.9

Grand Touring B-Spec: 60-69.9

Touring A-Spec: 50-59.9

Touring B-Spec: 40-49.9
Here's an example: my 2014 Scion FRS has a "base PIP" of 61.5. Then I added these parts:
Camber bolts, offset top hats, and rear lower control arms: 1.0

Aftermarket bushings: 1.0

Aftermarket bucket seat: 1.5
That results in a total of  64.5 PIPs, placing me in Grand Touring B-Spec.
No, that math doesn't make sense. That's because it's a little more complicated than I've described. Thankfully, OTA has a handy classing calculator that can be found here: http://ccdb.casc.on.ca/ 
Now, if you're looking at this and thinking "gosh, I can't even remember what mods my crazy fast time attack car has!" – don't worry, OTA has a solution for you. If you have enough PIPs, you're able to submit your race weight, along with a dyno chart, and they'll use your actual power-to-weight ratio to determine your class. 
For these reasons, I'm convinced that OTA's PIP system – while it's complicated – accurately classes cars in a way that no other time attack series can.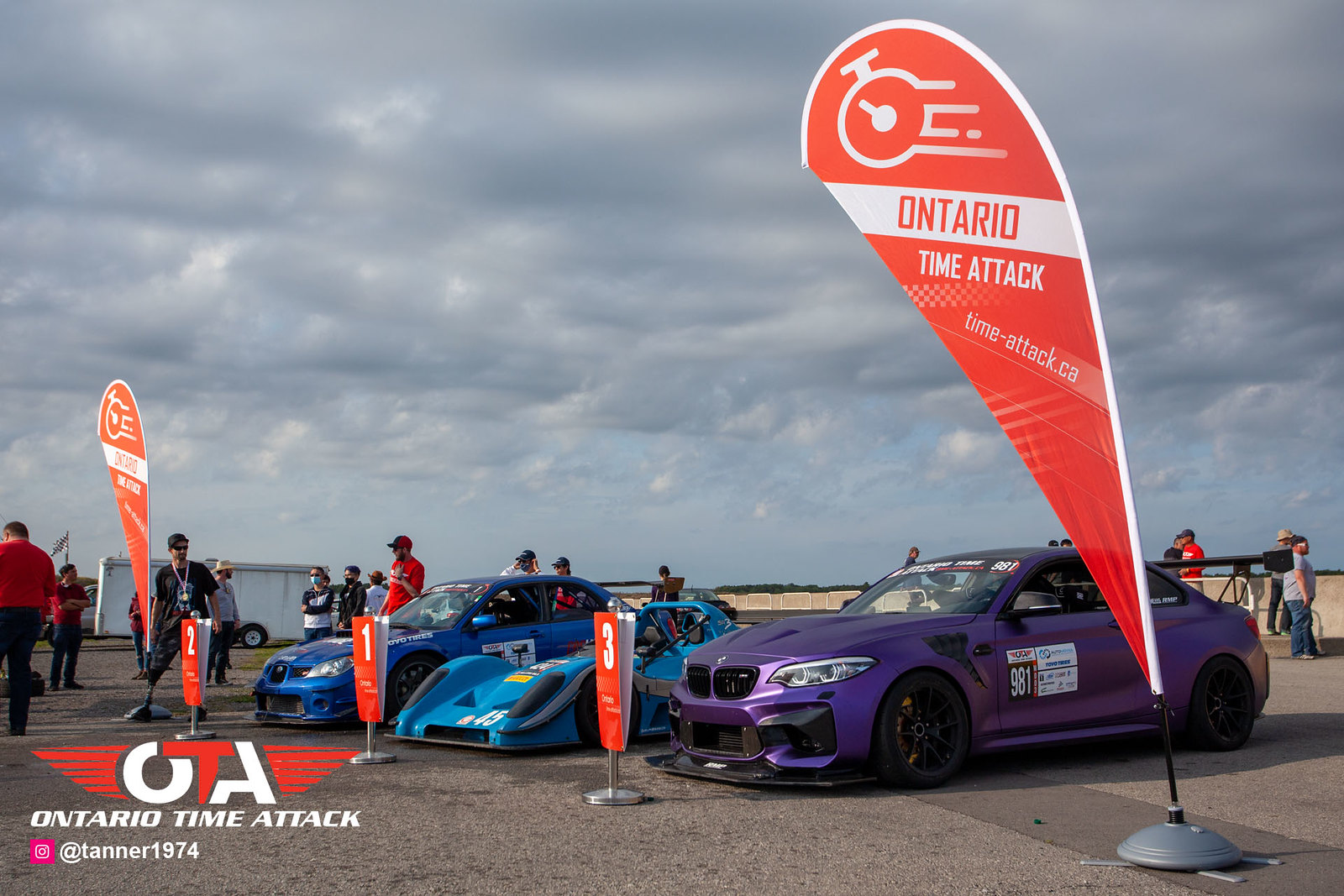 Image: Michael Tanner
Competition
The day is normally broken down into six sessions: three practice, three competition. Practice sessions consist of 20 minutes of open lapping, while competition sessions are five laps each: one warm-up, three hot laps, and a cool-down lap.
So you've classed your car, and now you're setting laps during competition. How do you win? There are three ways:
Win your class

Win the event overall

Win 'top novice*'
* novice = it's your first time attack season
Your fastest time in competition along with your PIPs are used to calculate an "iPAX Score". If you have the highest score in your class, you win. If you have the highest score out of all the other novices, you'll win "Top Novice", and if your score is 100 – you win the whole event. (otherwise known as "winning overall")
Who it's for
Generally speaking, Ontario Time attack might be the series for you if:
If it's your first time attack season
OTA's "novice" championship means that you don't have to beat everyone in order to get the chance to spray your competitors with Perrier, and bring home a medal – you just need to beat other novices.
The amount of seat time you'll get each event is important to you. 
OTA promises 2hrs of seat time each event
You drive a slower car
There really isn't another series where you'll be competitive in an EG Civic, or a stock Scion FRS – so if that's what you're driving, look no further than OTA.
You don't rely heavily on sponsor funding. 
Being a smaller series sans spectators, OTA doesn't generate the same level of buzz as a series like CSCS, meaning that sponsors might not be as eager to jump on board
You're not looking to spend a lot of money.
Because its classing system allows virtually anyone to compete in anything, it's by far the cheapest series to run. As a result, the field skews heavily towards FRS/BRZs, Civics, Integras, and other odd-ball lightly prepped streetcars. 
The Downside
There are really only two downsides to OTA. First, is that the rulebook is very complex, to the point where in my last event of the season, I was still discovering new rules. Secondly, the OTA iPAX system tilts competition in the favour of those driving slower cars. I'll explain.
It's more difficult to drive a fast car fast, than it is to drive a slow car fast. Managing that much more horsepower, and consequently more momentum, takes more commitment, more smoothness, and more accuracy. That's part of the reason we love cars like Miatas, FRS/BRZs, Civic Sis – they're manageable and easy to drive at the limit without risking life and limb.
At the last OTA event, I was up against a C6 Corvette Grandsport for the overall first-place position. I managed to put down a 1:22.4 around the Toronto Motorsports Park – which earned me the first place position in the day's overall ranking. In the very last session of the day, the Grandsport managed an astonishing 1:17 earning him the first-place position. But he needed to be a whopping five seconds faster than me – and believe me when I saw it's drastically more difficult to drive a 430hp rocketship to a 1:17, than it is to do a moderately fast 1:22 in my car. 
If you're confused, I'm talking about winning events overall (i.e., winning the entire event). Obviously, fast cars duke it out with other fast cars in their respective classes for a class win. But if you're looking to win-it-all, prepare for battle.
Canadian Sport Compact Series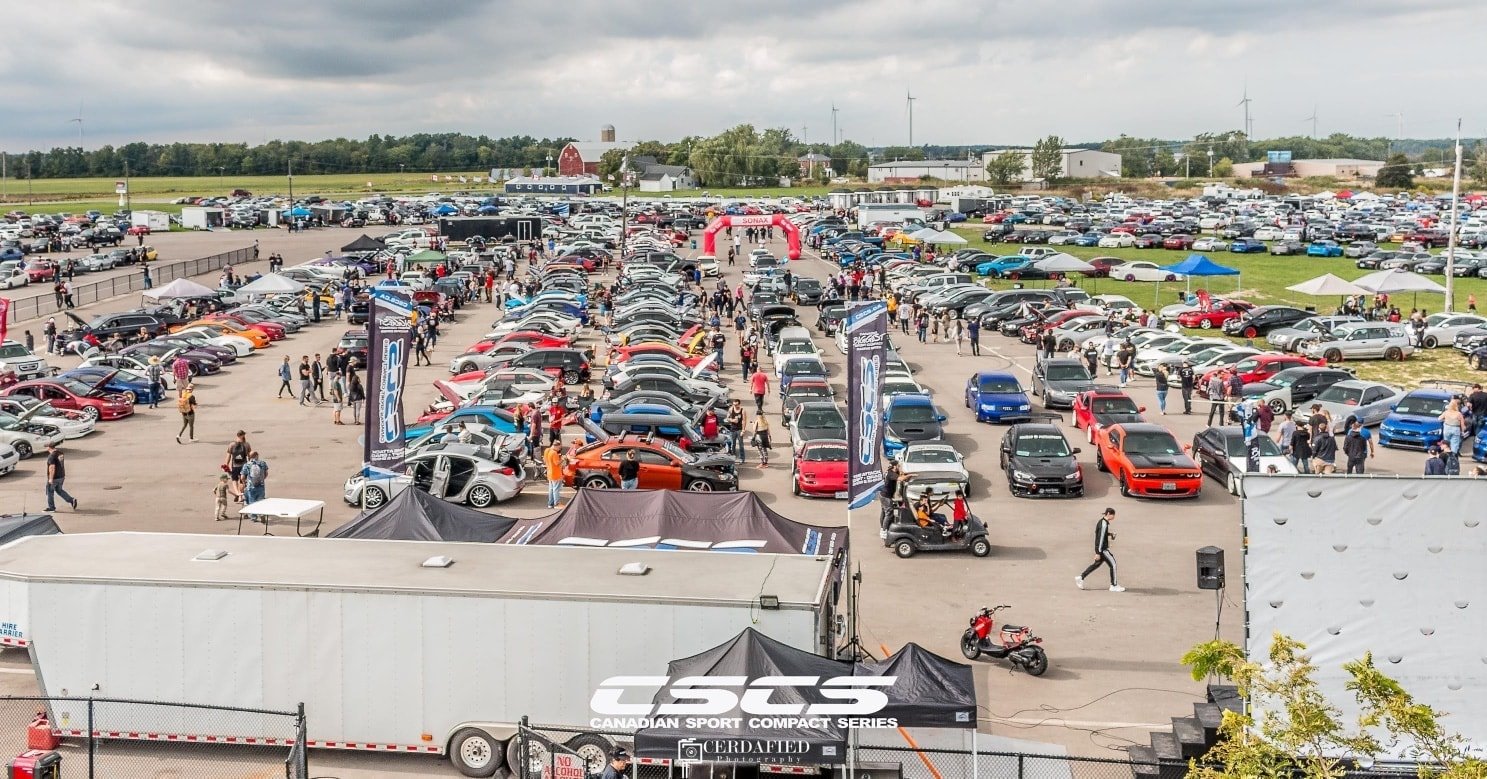 Image: CSCS Facebook Page
CSCS is without a doubt, the fastest time attack event in the country. It's for the driver who's trying to build the sort of car that bends the laws of physics and demolishes lap records. It's a tuner-car game of horsepower, aero, mammoth grip, and intense focus.
For that reason, CSCS track records are generally considered to be the track records. Furthermore, it's the closest thing you'll find to the noise and fanfare of an American series like Gridlife, on this side of the US border. CSCS combines show 'n shine, drifting, and time attack into a single event to produce a single grandiose celebration of car culture. 
Classes
While OTA has you add up every modification you've done and assigns 'PIPs' to each one, CSCS gives you a list of things you're allowed to do in a given class. That's freeing, because it gives you more flexibility when building your car.
However, being competitive in time attack means building to the top of your class, and you'll find that doing this for CSCS is very, very expensive. You can prep a car for Ontario Time Attack for about $10,000. In CSCS, you'll need closer to $40,000 – and you'll need to start with a much faster car. 
There are four main classes:
Production
Designed for street driven sports cars (i.e., Nissan 370z, Civic Type R, Subaru WRX Sti, BMW M2)

Coilovers (provided they don't have external reservoirs), aftermarket differentials, sway bars, engine-swaps (provided a variant of the engine you're swapping was an available option from the factory), are all permitted. Tuning is permitted as long as you continue running pump gas and maintain the factory turbo/supercharger. Adding aero or removing your back seat is not allowed.
Street
Designed for sports cars that aren't allowed in 'production' (read: Mustangs, Corvettes, Cayman GT4, BMW M4s, etc.) 

Modifications such as wings, splitters (size limits apply), rear-seat removal, aftermarket turbochargers and superchargers (as long as you don't have a V8), and aftermarket bushings are all allowed. 
Super Street
Any car – Ferraris, Lamborghinis, ACR Vipers, R35 GTRs – you name it.

Literally any modification, short of non-OE flat floors and aftermarket sequential transmissions (dogboxes), with certain limitations to wings and splitters.

To quote the CSCS rulebook, "Extensively modified road cars, exotics, and "underpowered" race cars are eligible for Super Street."
Unlimited
Literally anything, provided your car is based on a production street car.
Exhibition
A weird class, as competing in this class means you won't be eligible for championship points. However, if you have a tube-frame racecar or something like a Radical, this is the only class you're eligible for.
Along with the modification limits described above, each class is limited by tire compound and size.
Size and compound limits are as follows:
Production:

Any 200tw tire

FWD/AWD: 255, RWD: 285

Street:

Must be the Pirelli Trofeo R purchased directly from "Steelcase Tires N' Mags"

FWD/AWD: 265, RWD: 295

Super Street

Must be the Pirelli Trofeo R purchased directly from "Steelcase Tires N' Mags"

Any size

Unlimited
Each class is then split into three by drivetrain, making a total of twelve classes you can complete in:
Production RWD

Production AWD

Prodution FWD

Street RWD

Street AWD

Street FWD

Super Street RWD

Super Street AWD

Super Street FWD

Unlimited RWD

Unlimited AWD

Unlimited FWD
Competition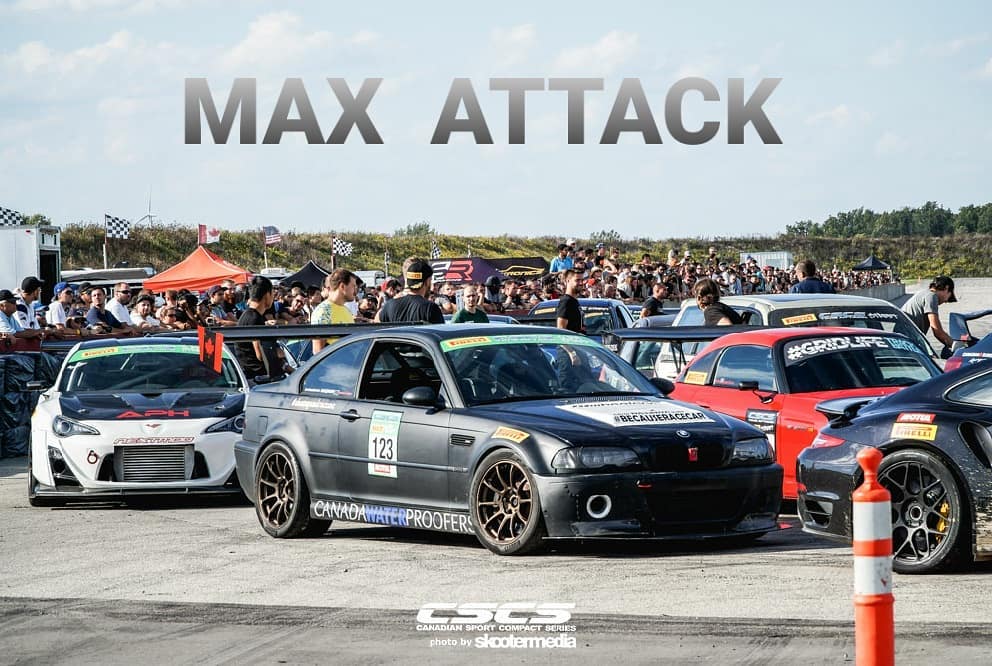 Image: CSCS Facebook Page
The fanfare that comes with CSCS results in a significantly larger field of cars than you'll find at OTA. As a result, CSCS is cut-throat in order to accommodate that many cars – especially when they toss drifting into the mix.
The morning is broken up into practice sessions, where drivers have an opportunity to get a feel for the track, and set a qualifying time. That qualifying time will dictate whether or not they're fast enough to set a lap in the afternoon. Only the top five fastest cars from each class are permitted to move forward. Cars that do move forward, are allocated a 20-minute session to set the lap that will dictate their position in the standings.
The winner of each class receives a trophy, and if the class is large enough, the second and third place participants will as well.
Who it's for
Generally speaking, CSCS might be the series for you if:
You have the means and the will to build a brilliantly fast car
You're starting with a reasonably fast car, and you have the means and the will to build it to the top of a CSCS class, along with the skills to hold your own against some of the best drivers in the country. 
You're there for the experience
CSCS is an experience; the noise, the crowds, the freedom to pass wherever and whenever you like. It's unlike any time attack on this side of the Canada/US border. 
Seat time isn't a priority
The layout of CSCS means you'll almost certainly get less seat time than both OTA and Northern Speed, given that drivers are granted a single time attack session, and only if you qualify. As a result, there's a chance you'll only get three-morning afternoon practice sessions.
The Downside
Aside from being prohibitively expensive, the main problem with CSCS is that it's classing is designed in such a way in which it's exceedingly difficult to compete in certain cars. Got a Miata, or an EG Civic? If you're not willing to build it to the upper-echelon of performance – built motors, forced induction, engine-swaps – you're not going to be competitive. And knowing that no matter what you do, you'll never be able to compete because you're up against cars with a 100 whp advantage, is endlessly frustrating.
It's also worth mentioning that in Street and Super Street, not only are you required to run a Pirelli Trofeo R – which isn't the fastest, nor the longest lasting time attack tire available – but you need to purchase it from one specific vendor. 
Northern Speed Time Attack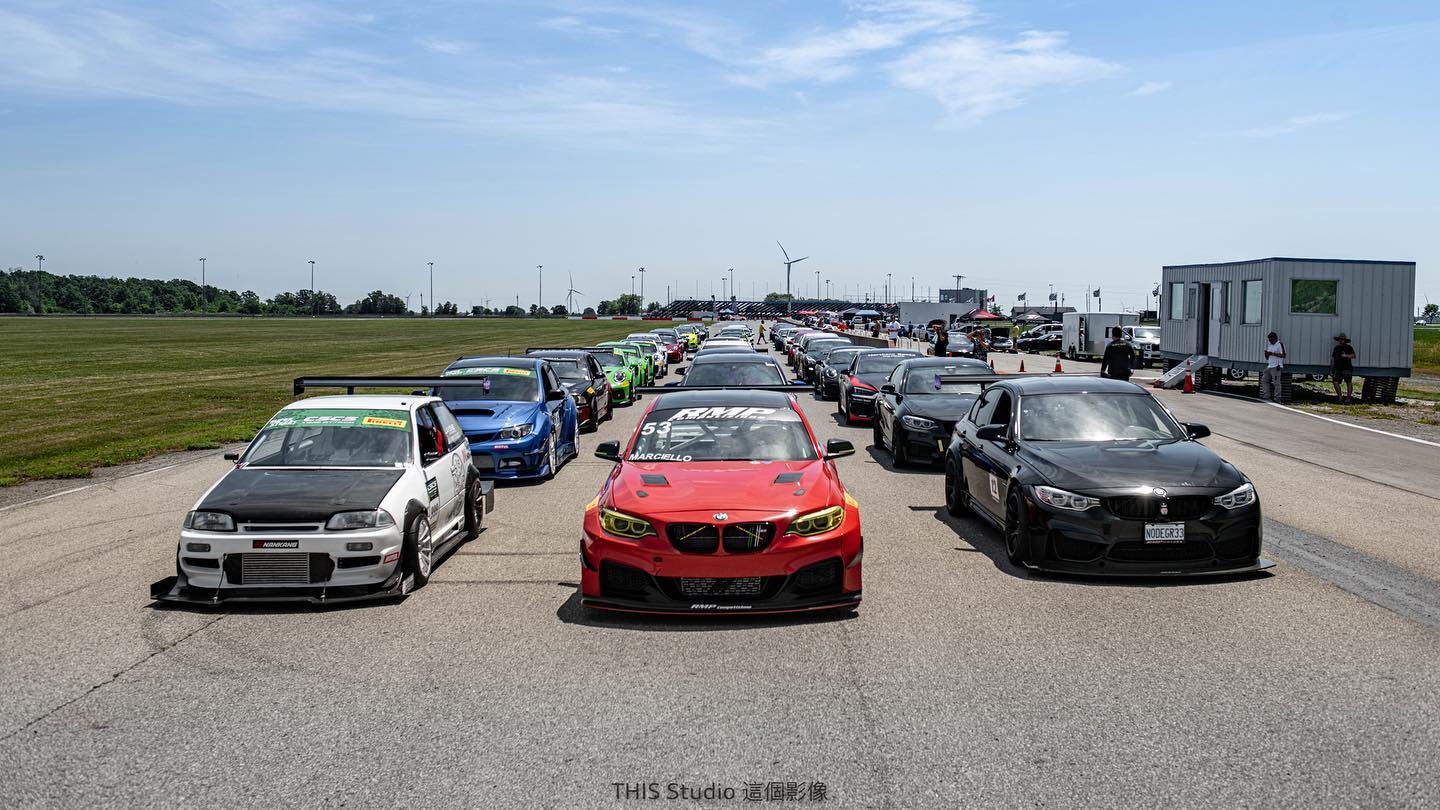 Image: Northern Speed
Northern Speed is the new kid on the block. Started last year, it tries to mimic the style and atmosphere of CSCS, while trying to correct some of the quirks that exist in CSCS' classing system. Unlike CSCS, you don't need to "qualify" in order to compete in afternoon time attack sessions, there's no "spec tire" that you're required to run, it's tried to make room for slower cars like FRS/BRZs and the Civic Si, and there's a dedicated class for open-wheel racecars.
The caveat is Northern Speed's lack of experience, and that's evident in their rulebook: it's eight pages, and very thin on detail. That's a good thing if you see rules as needless red tape, making time attack more complicated than it needs to be, but a bad thing if you're looking for a genuinely even-playing field, as there are loopholes large enough to drive a truck through.
Classes
There are six classes:
Street
Street is designed for budget, production sports cars with 200-300hp. Read: FRS/BRZ, Civic Si, Focus St, etc. 

Brakes, basic suspension modifications (single adjustable coilovers, bushings, and swaybars), bucket seats, and 200tw tires are all free. 
Street Plus
You won't find any mention of "Street Plus" outside of official results and

this Instagram post

. Street Plus is designed to split the difference between cars like the Subaru WRX STi and Civic Type R, and the slower cars found in street class.

In short, it's designed for high-horsepower sports cars with an MRSP of $58,000.

Like street, brakes, suspension modifications (single adjustable coilovers, bushings, and swaybars), bucket seats, and 200tw tires are all free. 
Clubsport
Clubsport is designed for modified street cars, and fast production sports cars (read: BMW M4, Porsche Cayman, anything with a V8)

Engine swaps, aftermarket turbo/superchargers are permitted as long as you don't exceed 500whp. Stand-alone ECUs and aftermarket transmissions are not allowed. Two-way adjustable coilovers are permitted provided that you maintain OEM pick-up points. Spoilers, rear diffusers, splitters and side-skirts are all allowed provided they respect certain size restrictions – aftermarket flat floors are not.
Limited
Designed for underpowered race cars, exotics, and extreme time attack cars.

Aero is unlimited, however aftermarket flat floors are not permitted. Engine mods are essentially unlimited, however, you shouldn't exceed 700whp. Weight reduction is also free, provided you keep an OEM dash.
Unlimited Production
Designed for top-tier supercars. Effectively limitless.
Super TA
Designed for top-tier unlimited time attack cars. Effectively limitless. I'll also mention that per the NS rule book – descriptions of 'Unlimited Production' and 'Super TA' are identical.
Like CSCS, each class is also governed by maximum tire size and width:
Super TA / Unlimited

Limited

RWD: Unlimited, FWD/AWD: 295

No racing slicks

Clubsport

RWD: 285, FWD: 275, AWD: 265

No racing slicks

Street / Street-Plus

RWD: 275, FWD: 265, AWD: 255

No racing slicks
Competition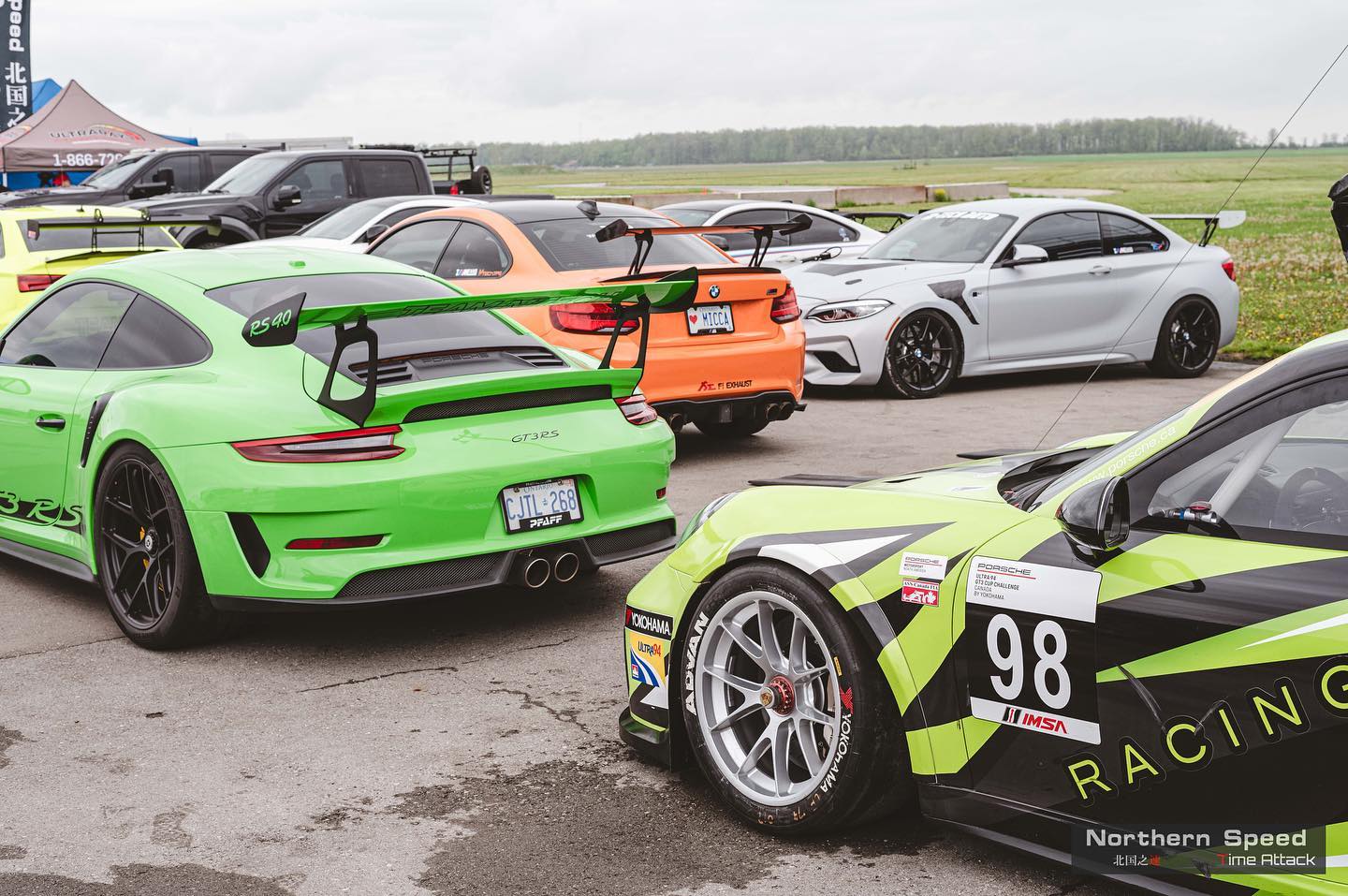 Like Ontario Time Attack, every competitor is given three 'competition' sessions in the afternoon. Unlike OTA, those sessions are 20 minutes rather than specifically five laps. That said: all of your laps throughout the day count towards your overall standing, meaning that if you set a brilliant lap during practice – that lap could win you the podium. If you set the fastest lap time in your class, you win that class. Trophies are given out for participants who come in first, second, or third.
Who it's for
Owners of exotic sports cars
If you're looking for a glorious display 'fuck you' money – look no further than a Norther Speed event. Likewise, if you have a Porsche 911, and you'd like to compete with other high-end sports cars, Northern Speed is for you.
Drivers looking for the experience of CSCS, who drive slower cars
Northern Speed's Street class is still very, very fast, but if you drive a car like a Miata or a BRZ, you'll actually have a shot – unlike CSCS' Production RWD class.
The Downside
Northern Speed did a lot of things right during their rewrite of the CSCS classing system. Things like scraping CSCS' 'classing by drivetrain' which never made much sense: after all, why shouldn't a Street RWD and Street AWD car compete directly? Creating 'Street Plus' mid-way through the 2020 season was another smart move – because having an FRS and a Civic Type R compete against each other directly never made sense.
However, in their attempt to create a lean and simple rulebook, they've created an enormous amount of ambiguity. For example; racing slicks aren't permitted in most classes, but nowhere in the eight-page document is a racing slick defined. That matters, because for some, a racing slick is any tire under 200tw. For others, it's under 100tw. There are also general guidelines for power output in each class, but there isn't a requirement to submit a dyno – and for a lot of cars, a 500whp and a 700whp build can look identical. 
For a lot of people – this probably doesn't matter. Especially if you're building a reasonably stock car. But for tuners who are trying to build to the limit of a given class, that ambiguity can be frustrating.
Final Thoughts
Time Attack is about as diverse as the people who run it. Ontario Time Attack is for the momentum car-obsessed: people who love making slow cars go fast. CSCS is for the builders: where drivers with the skill and the budget to build some of the fastest time attack machines in the country go to flex their muscle. Northern Speed is where exotic car owners call home. But they all share the same obsession with shredding tires and lap records alike. 
My season with Ontario Time Attack was without a doubt, the greatest automotive experience I've ever had. The nail-biting terror as you wait for the last round's results to come in. The sheer elation that results from a win following late nights of wrenching, tweaking, and prep, and the crushing defeat that comes when you lose by a tenth. Then there are the people – the friends you'll make, the competitors you'll learn from. It's all fantastic. If you're on the fence, I implore you to give it a shot. You won't regret it.