The decision to drive a whopping fifteen hours south from our quiet, comfortable, stable Toronto lives was a simple one. Last year, we attended Gridlife Midwest at Gingerman Raceway. It was fantastic, and combining that experience with a legendary racetrack like Road Atlanta, and Radwood, the famous 80s/90s car show out of California; DriverMod had to visit Gridlife South. It also helped that the Tail of the Dragon — a road I've been dreaming about for nearly a decade — was on the way. The next obvious difference between this year and last was the cars. My nightmarish engine-swapped Miata had been replaced with a minty fresh 2014 Scion FRS, meaning that driving roughly 4,000 km in less than six days was for the first time, actually a realistic possibility.
And that's what I was thinking when my friend and colleague Mike messaged me days before our departure, asking me if we should bother bringing tools. To which I responded, "pft, tools are for people with cars who break down." I packed a cloth bag with a handful of random screwdrivers, and Mike brought along a socket-set that was missing the majority of its pieces. Because once again, being prepared is for people with cars who break down.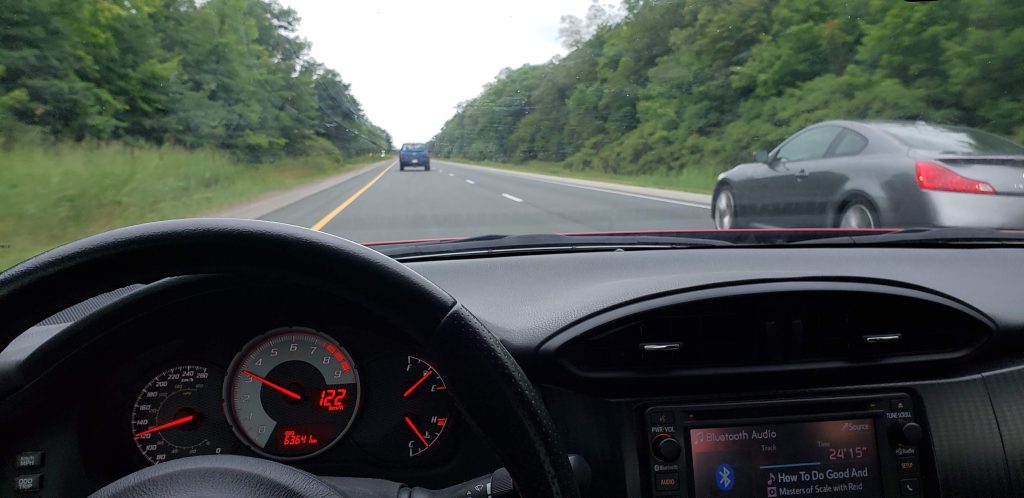 The plan was simple. Day one we'd spend the day driving down to Tennessee. Then, we'd wake up, spend hours thrashing our cars on the Tail of the Dragon, drive down to Gridlife South at Road Atlanta and spend the weekend having an amazing time. Six-o'clock in the morning we were caffeinated, happy, and on the road. Just kidding. I was, Mike was miserable.
The next nine hours went how painfully long road trips are supposed to go. We ate awful fast food, Mike kept himself awake through a mixture of Redbull and slaps to the face, and I explored the wonder that is the snack section of U.S. gas stations. It was boring until it got abruptly less boring. Mike's clutch pedal hit the floor, so we pulled into a gas station. The brake fluid in the trusty G37's clutch fluid reservoir vanished. So, in typical DriverMod fashion, we filled it back up and hoped for the best. And of course, thirty-minutes later his clutch hit the floor again leaving Mike to drive the remaining three-hours clutchless.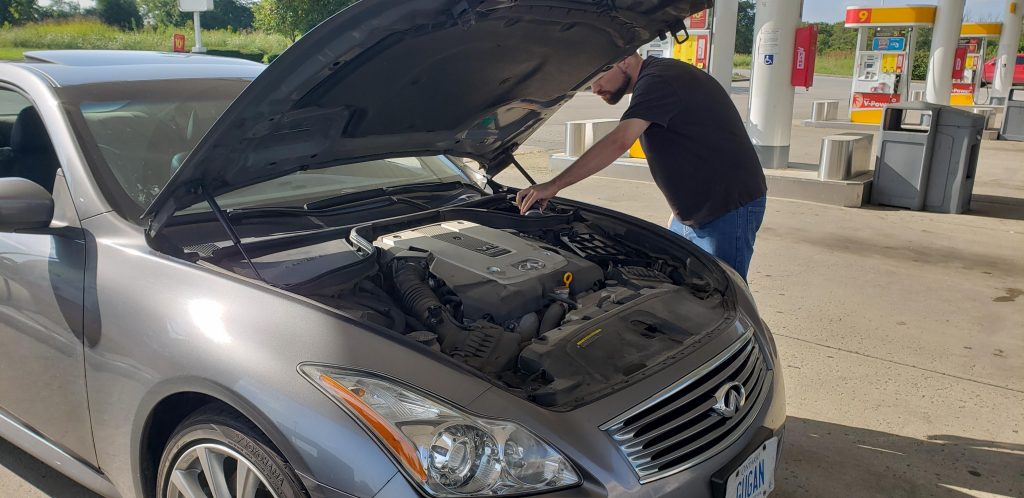 Which worked, until we had to get off the highway, and stop for a red light. Stuck in the right-hand lane with thirty-year-old pickups whizzing by, we popped the hood of the Infiniti. The hope was that we could refill the clutch fluid reservoir and get another thirty-minutes of clutch usage, but its level hadn't dropped. Then came 'plan b' – jumping out of the FRS and hand-pushing the Infiniti out of intersection after intersection until finally, mercifully, we arrived at our first destination — an adorable farmhouse in Southern Tennessee.
During the ordeal, Mike came to the conclusion that the clutch slave cylinder had failed. Which would have meant spending $500 on the part and another $1000 on labour, as replacing the G37's slave cylinder is as labour-intensive as a clutch job – and we weren't about to drop a transmission on jack stands. The next morning, we noticed that the car wasn't actually leaking fluid, and what clutch fluid remained had turned black.
That's when we directed our attention to the car's master cylinder. A $160 part that we could replace on jack-stands. We picked up a new master cylinder at a local Autozone along with one of those $30 god-awful 2-ton pump jacks, two jack stands and a handful of wrenches.
It took us ten-hours. Every angle we tried to get the master cylinder out of the car resulted in it getting jammed up against something; the brake booster, the ABS module, or both. It took five hours to get the old master cylinder out of the car and the next five were spent installing the new master cylinder and undoing the carnage we'd done getting the old cylinder out.
That was also the day I learned the meaning of southern hospitality. It's worth mentioning that almost all of our wrenching was done on the driveway of our Airbnb, hours after our official check out time. Around 10 pm, while Mike was rolling around in a puddle of brake fluid under the car, one of our hosts – a retired, silver-haired man named Thomas brought out two spotlights to help us see what we were doing. When we got the car wrapped up, they offered us a room in the back of their home free-of-charge.
But we didn't take them up on the offer. Mike wanted a warm shower. Something about being covered in brake fluid rubbed him the wrong way, and we still needed to drive to Atlanta. We found an Airbnb near Gridlife, made a last minute booking which by some miracle, was accepted, and finished our day by driving three hours south in the dark
Protip. If you're reading this, you're a car person. That means you either drive something inherently unreliable, or you've done something stupid to your car to make it inherently unreliable (see: my Miata). In our case, Mike has a modified clutch pedal to improve clutch feel which wasn't correctly aligned, likely causing the seals in the master cylinder to fail. So next time, bring tools. All of them.