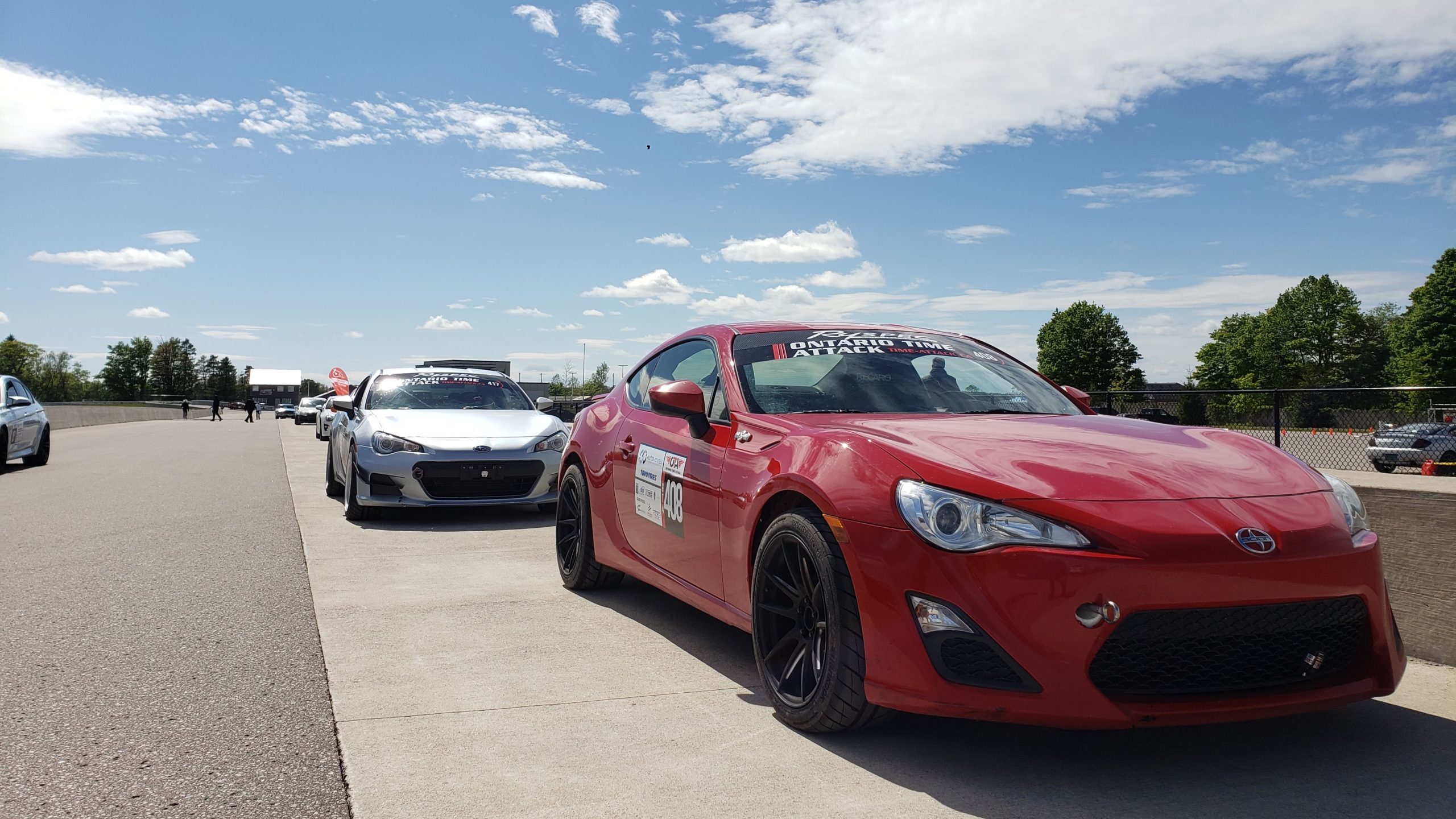 This is Part 3 of our multi-part series called "How to Win a Time Attack Championship". You can read Part 2 here.
The first event of the Ontario Time Attack season took place at the Canadian Tire Motorsport Park's Driver Development Track (DDT): the little brother of the famous Grand Prix circuit. It's a tight, technical combination of kinks, wide generously cambered bends, and sharp elevation changes. It's designed to reward momentum cars and smooth driving. If Cayuga with its lack of camber, lack of elevation, and general lack of things-to-hit were training wheels, DDT is your first bicycle. As its name implies, it's also a very good place to learn to go fast.

Pictured: Canadian Tire Motorsport Park's Driver Development Track (DDT)
I had two things hanging over my head heading into our first event of the championship. The first is that I never got a chance to drive the car on a racetrack since it was last torn apart by our race engineer Richard (following my incident at Cayuga). This would also be the first time I'd driven this configuration of DDT. Most organizations run DDT with two kinks: meaning the back straight is interrupted by an uphill, blind, second gear kink. OTA elects to run DDT with just one kink, meaning the back-straight becomes one single, bumpy sprint to 160kph in even the slowest cars. 
Coming back to DDT was an even more daunting task for my teammate Daniel, owner of a silver GT3 prepped Subaru BRZ. It's his self-proclaimed worst track and for good reason. The last time he attended a lapping event at DDT, he hit the concrete-barrier separating the pit-lane and the front straight and nearly wrote off the car. I've heard DDT described as "stealth dangerous". Everyone is quick to point out how Mosport GP, with its insane speeds and plunging elevation changes, is dangerous. DDT may be relatively slow, but it's riddled with walls (at least, compared to somewhere like Cayuga), and unsettling elevation changes. For that reason, I've seen a surprising amount of damage occur at this unassuming little circuit.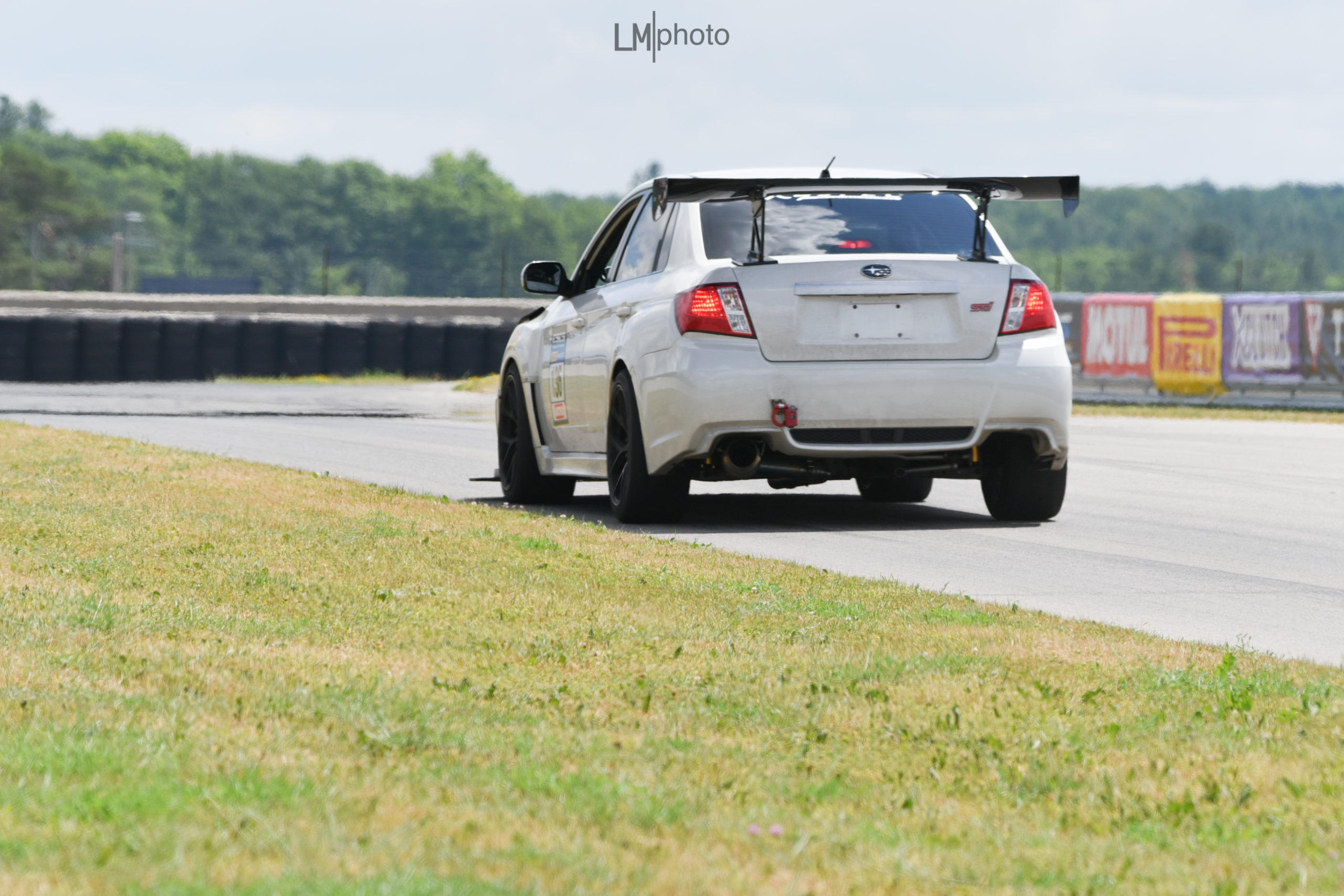 Photo: LM Photo Pictured: Nathan Hodgins
Nathan and his big-power STi had a very different problem that day – he was the only one competing in his class. Not being one to accept an easy win, he set his sights on a different target: fastest overall time. I remember this being the first time I took a good look at the hefty Subaru. The first thing that caught my attention was the AiM dash neatly tucked into the factory gauge hood, and the more I looked the more I found. Spherical and poly-bushings are sprinkled throughout the car's suspension geometry, the rear of the car has been gutted and fitted with a paint-matched half cage. It still has front-interior panels for classing reasons, but make no mistake: with solid engine mounts and a straight-through Tomei exhaust, this is not a street car. Then there's the aero – a massive front splitter and an APR GT350 wing generate meaningful downforce. The motor, an EJ257 was in its third season and had a proven streak of reliability despite making roughly 400whp power. There was one caveat though: like all highly-turbocharged Subarus, it ran very hot. I would learn later that Nathan ran the car with heat on full blast just to keep temps down. I digress. It's fast, it's very fast. 
I caught myself wondering what I'd possibly do next if I were in his shoes, and the only thing I could come up with was to run a proper racing slick – the Subaru wore 265-width Yokohama A052s on 18×9.5 Advan wheels. Mind you, that might be the fastest street tire on sale today.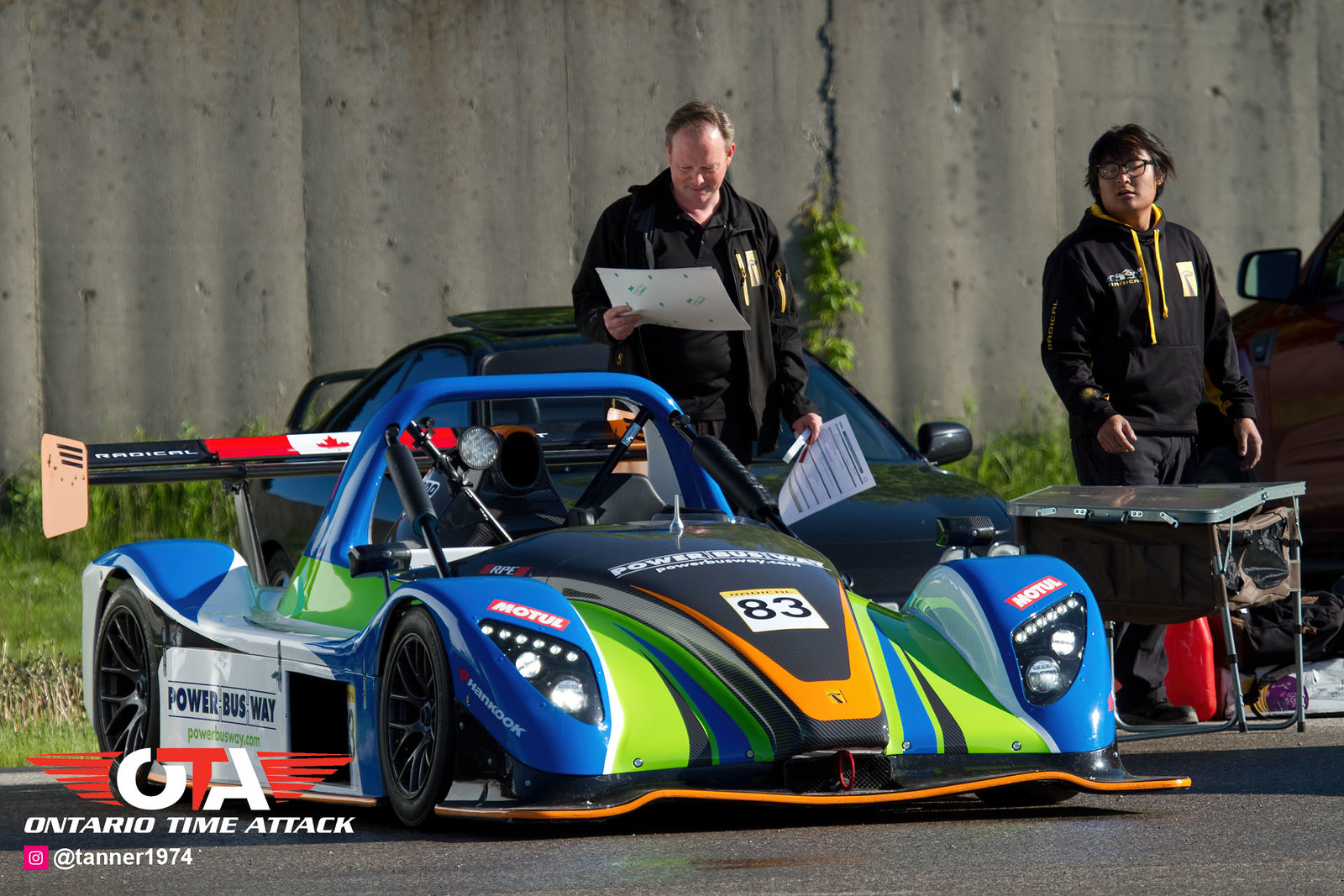 Pictured: Radical SR3, Robert Burgess and Richard Yin from Radical Canada East
Our weekend started the way they all do: early. Richard and his team from Radical Canada East were the first on the scene. They were going to be running their Radical SR3, and intended to smash the overall track record. For that reason, Richard was going to be splitting his time between supporting his Radical comrades, and helping myself, Daniel and Nathan with our shitboxes. Mercifully, Richard and his friends at Wrap Force were kind enough to install our windshield banners while the cars were getting prepped, so the hardest job of the day was already done. All that was left was to set our tire pressures, zip tie transponders to our front-bumpers, and pace around aimlessly until our practice-session was up.
The driver's meeting is when the realities of post-covid motorsport hit me. Competitors were spread all over the lot, a mandatory six-feet apart. Most organizers were wearing masks, most competitors were not. Remember, this was early in the summer of 2020 – back when we all thought that rubbing elbows instead of handshakes and standing awkwardly apart from each other would solve all our problems.
An OTA time attack event is usually split up into six, 20-minute sessions – three practice, three competition rounds. During practice, competitors are sent out onto the track based on their class. Daniel and I realized that we could use this to our advantage during practice. Because we were in different classes, and conversely different practice sessions – we could serve as each other's pit crew, checking tire pressures the moment the other rolled into the paddock to get accurate hot tire pressures.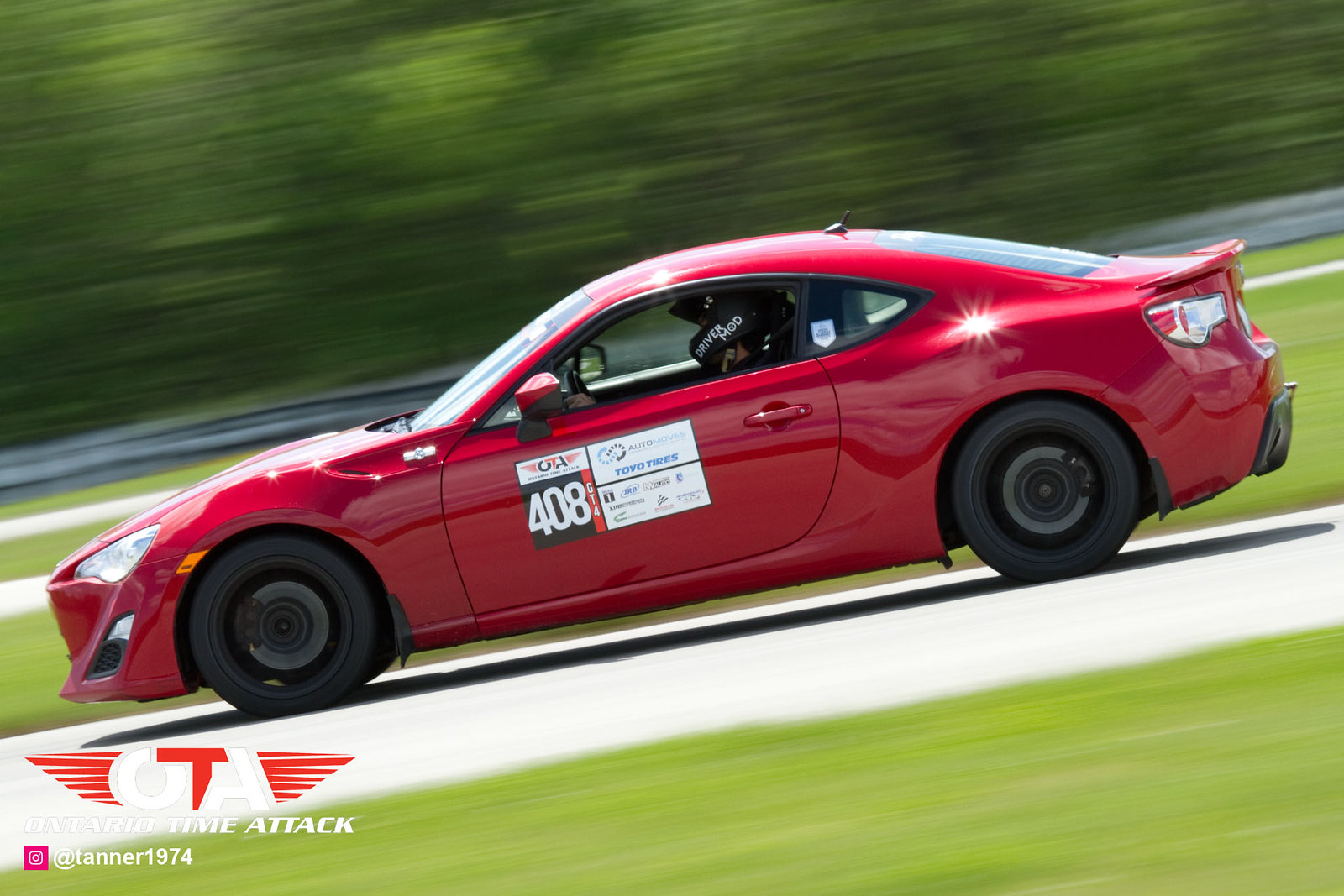 Photo: Michael Tan, Pictured: your author
Reverting back to stock suspension meant that its driving dynamics were familiar. Just better, thanks to a secret-sauce alignment by Richard. Driving a stock FRS fast is all about timing; timing your steering to make the most of the car's dramatic weight-transfer under braking, timing your throttle inputs to shift weight rear-ward, stabilizing the rear on corner exit. Finally, I was able to focus on driving: on carrying speed into corners, experimenting with different apexes, getting on throttle earlier. Overheating brakes or failing suspension were the last things on my mind.
A second midday drivers meeting separated the morning's practice sessions from the afternoon's competition sessions. That when we learned that things weren't going quite as smoothly over in OTA's timing booth. Permafrost over the past winter had damaged sensors in the track surface – sensors that OTA's timing software relies on to know when a car has crossed the start/finish line. In an unusual but necessary move, they switched to human beings holding stopwatches. That also meant times weren't being posted for practice sessions. This was a double-edged sword. Not knowing how fast our competitors were going meant not stressing about being off pace, but it also meant having no idea if we were doing anything right. Going into competition, we were just hoping for the best.
OTA competition sessions consist of just five laps – one warm-up, three hot laps, and a cool-off. Rather than arbitrarily sending out cars based on their class, competitors are sent based on the fastest lap time they achieved during practice – fastest cars first. For that reason, unless someone is royally sand-bagging during practice, running into traffic during a competition session is incredibly rare. At least, it would have been, if OTA had been able to record times during practice. For that reason, our first competition session was a bit of a mess. But alas, we finally had lap times.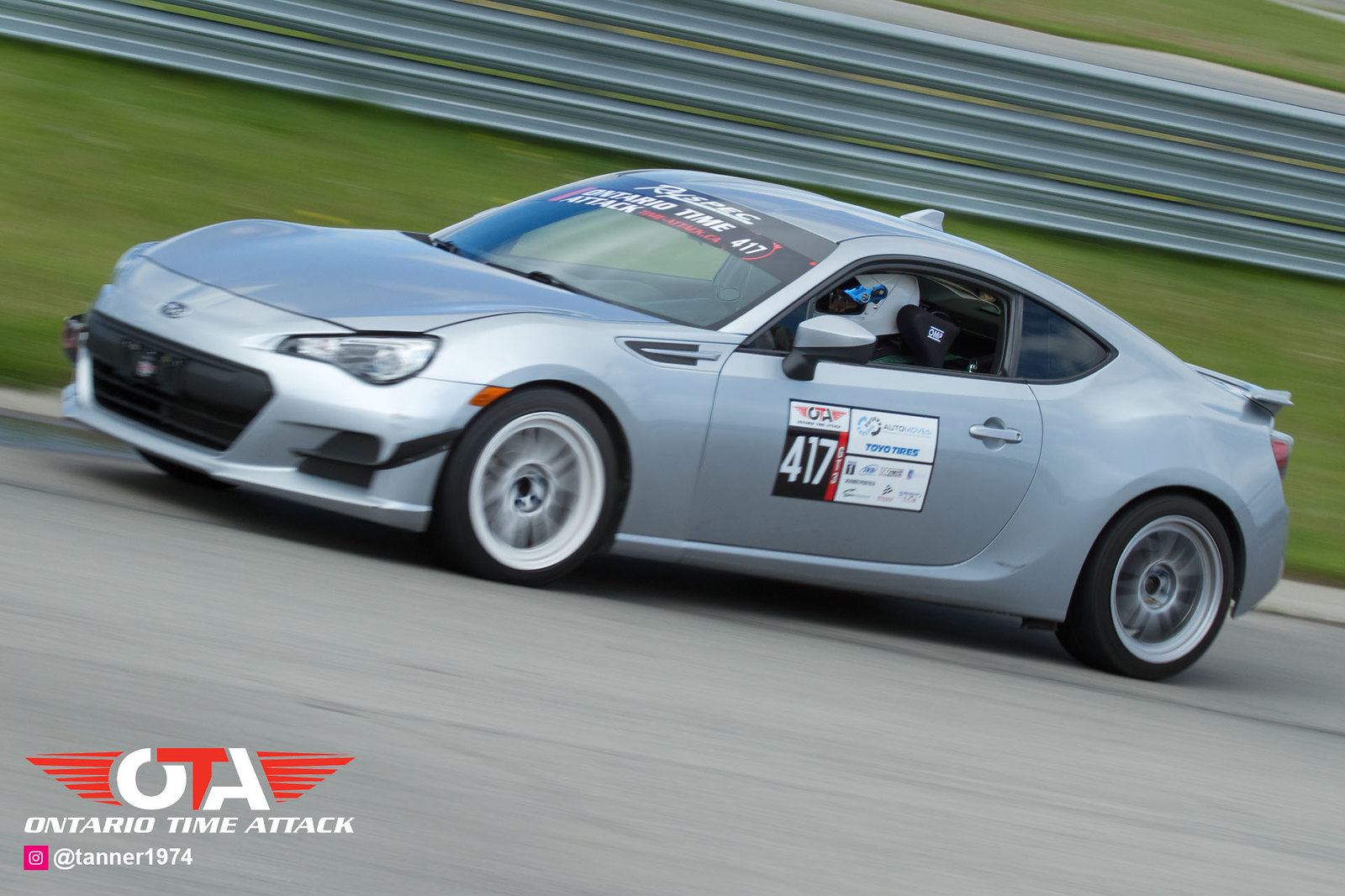 Photo: Michael Tan, Pictured: Daniel Cocar 
When times were finally posted following that first session, my heart skipped a beat. Myself, Daniel, and Nathan were all first in our respective classes. I had a lead of a mere two-tenths ahead of a nicely prepped Integra, and I was simultaneously giddy and petrified. I'd never won a time attack before, and two-tenths was too damn close. I drove my heart out over the next two sessions. Braking later, braking less, getting on throttle earlier, staying flat over DDT's hilly, twisting back straight, using less steering angle – every trick I knew. 
When our final times were posted, I'd picked up a few more tenths. Mercifully, the Integra hadn't. I'd done it, I'd clinched victory.
Better yet, we all had. Daniel took first in GT3 by a massive two-second margin. Nathan, the de facto SGT1 class-winner, placed third in his quest for the fastest overall raw time: behind Richard and Team Radical's Radical SR3 and James Houghton and his Gridlife GLTC-prepped Acura TSX – both prepped racecars, both on slicks. And yes, the Radical SR3 smashed the DDT overall track record. I was beyond thrilled, I wanted to hug Richard. 
But sadly, my tendency to overthink everything meant I was having trouble enjoying the win. I was already thinking about the next event and I was nervous as hell. I felt like we were setting a precedent. Showing up in cars with matching stickers, obsessively tuning with shock and tire pressure settings, getting our cars prepped and string-aligned by a Radical technician – we were telling the world we meant business. Winning confirmed this. 
But there was a cloud hanging over that win, for me anyway. Because I knew that we were still objectively slow. I was a second slower than last year's GT4 winner on the same course. Daniel was three seconds slower than last year's GT3 winner. None of this actually matters. Richard loves to remind us that we don't have to set a lap record at every event, we just need to beat whoever shows up. But what if someone capable of setting a class record did show up? I knew that we'd have to get faster if we were going to win consistently. And by this point, I'd convinced myself that we had to keep winning. Winning is obscenely addictive. 
We had to get faster. 
This is part three of a multi-part series. Click here to read part 4!