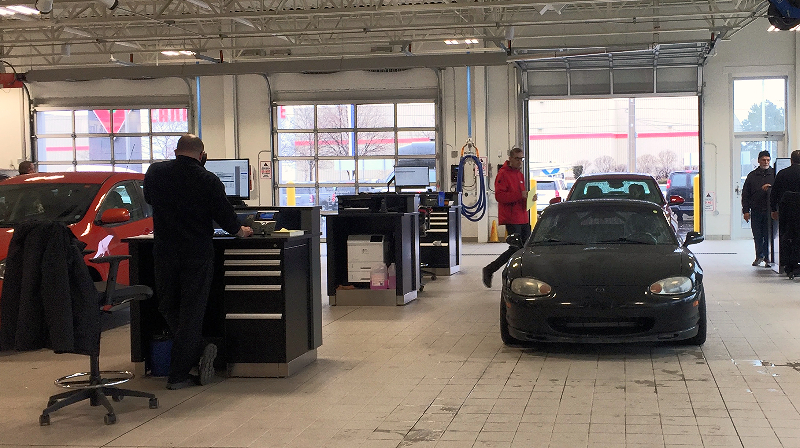 Usually, emissions testing a car goes something like this: you drive up to your local Canadian tire, march up to the auto-service counter, and hand a freckle-faced pre-pubescent teenager the keys to your 2003 Toyota Corolla. You sit in their lounge consisting of unsold patio benches, sipping on a terrible complimentary coffee while they plug their thingamajig into your car's OBD2 port and let it idle for 20 minutes. Then, you get a piece of paper stating that you passed, and you're good for another two years. But, not when you live in southern Ontario and drive an engine-swapped car.
If that's the case, you have to go through what's called a "Hot Rod Application."
Step One
Call the ministry and confess your automotive sins, i.e.; what you've done to your car. Pro-tip, the ministry doesn't care that you've put a K20z3 into your Miata, they'll want to know the make, model and year of the VIN associated with your ECU (That is the engine that you swapped into your car).
Start telling them that, "Well, it has a 2008 TSX ECU, the bottom end is from a 2010 Accord, and we Frankensteined the head from a 2006 Civic Si onto it", and you'll be politely told that you're not eligible. The ministry is interested in OEM-like swaps, where ECU, engine and emissions equipment are "from the same car."
Step Two
Get through that phone call, and they'll send you a form to fill out. You'll then need to email them the completed form along with a bazillion photos of your car, and supporting documentation (receipt for the engine, work orders – again, the engine on your receipt needs to match your ECU's VIN). After about a week, if you've done everything right, you'll be told that you're allowed to get your car tested.
Step Three
E-test it like a normal-ass OBD2 car.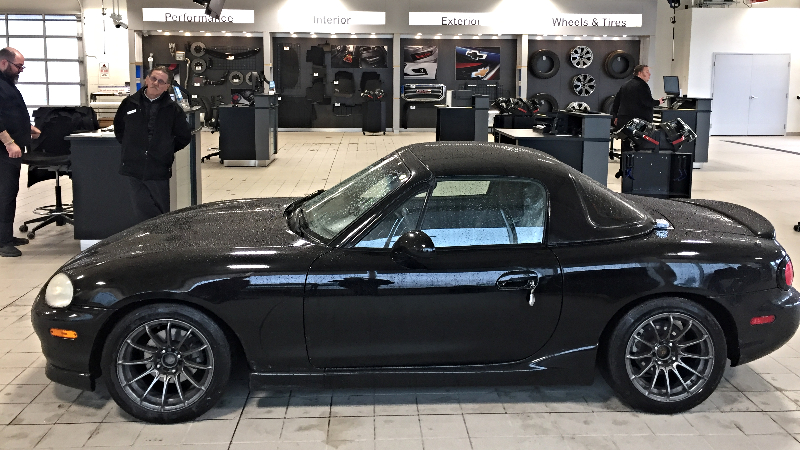 That's what brought me to Humberview Chevrolet – because where else would you get your GM-swapped car e-tested than a GM dealer?
Naturally, this turned out to be a terrible idea. Not because the folks at GM because weren't great. They wrapped my steering wheel in plastic, put a bag over the seat and cardboard on the floor mats. Briefly, I felt like one of those rich people who actually buy new cars. I just needed to show the tech where my OBD2 port was, and the test was over before I could finish my complimentary beverage. After is when things went downhill.
I got back in the car, started it, and immediately noticed that it ran like absolute garbage. The smooth purr of my low-mileage motor was replaced with a chug-a-chug-a of a steam train. That feeling was exacerbated under throttle and the car was suddenly slower than a Hyundai. Simply put, once again, my car was fucked.
Now, I know what you're thinking: GM probably updated the ECU's software during the e-test, fucked up the tune, and you just need to get the car re-tuned – you baby. But by this point, I was done. We've broken an engine and transmission, spent more time on the back of CAA trucks than I care to admit, and re-tuned the car a dozen or more times. In the last two years, we've pulled the engine out of this car four times. The car was already listed for sale and frankly, I wasn't having any luck. Best case, a new tune would cost several hundred dollars, and worst case we'd be chasing down wiring issues. I slashed my price and invited people to lowball me. This car was leaving my hands this weekend.
Now this next part, even I have trouble justifying. The highest bidder ended up being a guy named Mike from Ottawa; five hours north of Toronto. Mike also happens to be a longtime DriverMod reader, which meant that he knew what he was getting into, and he promised to get it back on the racetrack where it belongs. For those reasons, against my better judgment, I upgraded my CAA membership to Premier and offered to deliver it to him.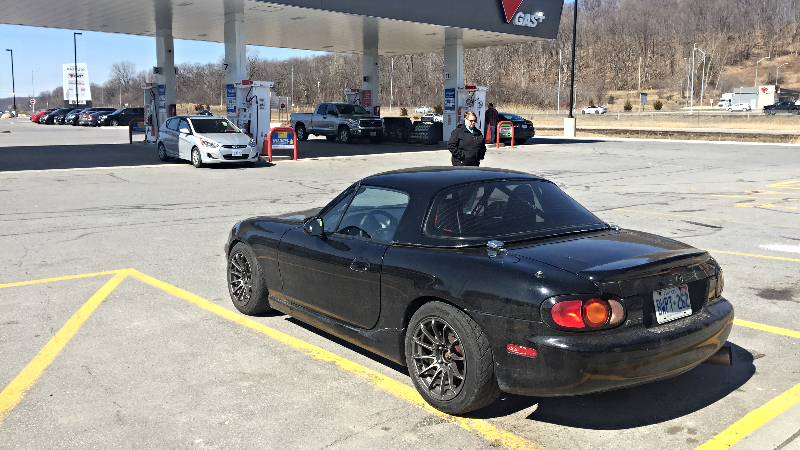 Saturday morning rolled around. I left Toronto and pointed the wounded Miata north. The plan was simple, get as close to Ottawa as possible and if the car started failing, call CAA. To my surprise, it never did. Water temperature was a cool 180°F the entire way up, oil pressure was healthy and wideband was reading normally. Any suggestion of acceleration made the car shudder violently, but it was acceptably smooth while cruising. The only truly awful thing was that it was drinking fuel. I left with a full tank and the car managed to consume another 40 liters on the way up.
Then I met Mike, got to know him and his Miata mates, and this situation suddenly made sense. Here's a guy with a reliable second car, a garage all to himself, access to a dyno, friends who've tuned and wired their own cars, and presumably more time and money. Then there's me – a twenty-something living in a condo, who's just started his career, trying to support this project by asking more favours than he'll ever be able to repay. For obvious reasons, guys like me just don't own project cars.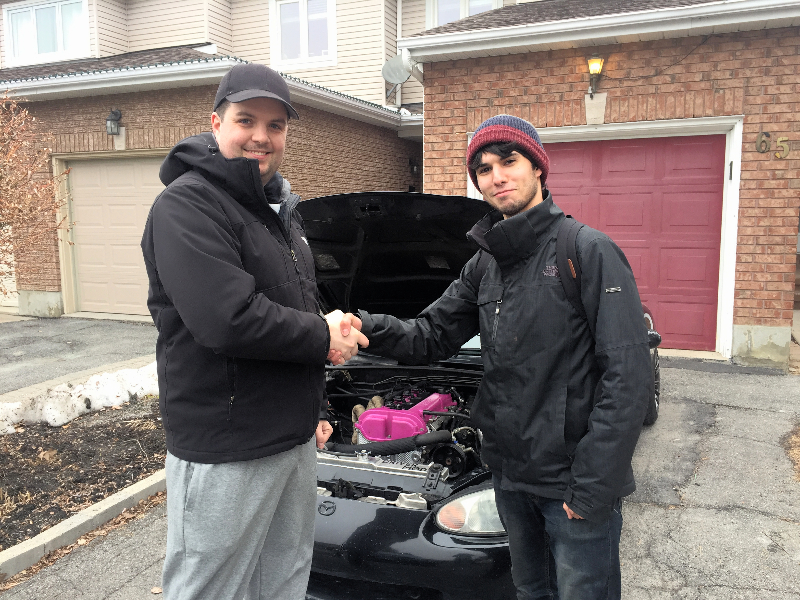 In an attempt to be a good previous owner, I told Mike everything I could remember about the car – things we'd tried and failed at, bugs I never quite figured out, the origin of different parts and the reason things were put together the way they were. Then we got some food, and I boarded a train back to Toronto.
Then I got sad.
Not because I sold the car; I couldn't keep it even if it ran perfectly. I need something with more seats, more cargo space, and more comfort. I was sad because I never managed to get it to a state that I could be proud of. Sad because it was never really fast, and sad because I wasn't able to give EcotecMiata the glowing exposure that they were looking for. In retrospect, I was in over my head, both in finances and skill, from the very beginning.
But maybe, for the sake of this story, that wasn't such a bad thing. There's plenty of video series documenting epic engine swap builds online. But let's face it, if you haven't done an engine swap before, unless you're dropping off your car somewhere for a turn-key conversion, this is the more likely scenario. Maybe this is a lesson of sorts: what to expect if you decide to attempt such an endeavor while being under-resourced and under-skilled.
It sounds like Mike is going to do the sort of things I should have done — replace the wiring harness with a fresh one from EcotecMiata, relocate the fuel line so it's not running alongside the exhaust header and get a proper dyno tune. So, I can sleep easy knowing it'll live a good life.
What's coming next? You'll know as soon as I do.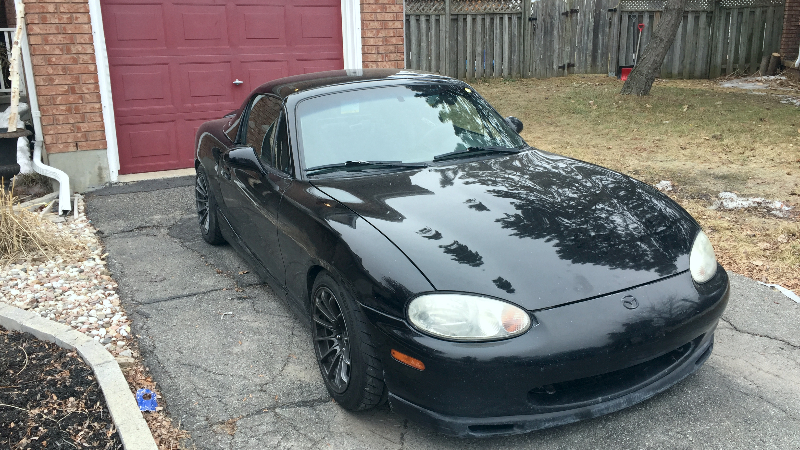 FYI – if this is the first time you've heard about this car, you can read all about its journey on Speed Academy.